I'm always honored when readers leave reviews for me.
Whether bad or good, I find that I'm taken aback someone took the time to tell me what they think of a book I wrote.
I don't expect to please everyone and I'm very modest about my writing, which is why I pretty much don't do a lot of face to face book signings and so forth.
I do like to share though and someone took the time to come to my site and leave a review for my book Sin's Iniquity.
Now if you don't know what the book is about, here is a quick description: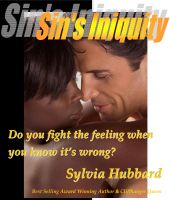 Sinclaire wants simplicity in her life. In order to prove her self worth to her ungrateful and evil mother, she is studying for the bar and in no way does she want anyone or anything to get in the way of her goal. 
That is until Dwight Bowman steps into her life and wants to very much get to know the plain Sinclaire.
Despite what she wants to prove to her mother, Sinclaire can't help her attraction to the wealthy powerful gorgeous Dwight and gives in to her heart.
Yet, sins of the past are destined to tear them apart or kill them in the process of being revealed. 
Hi, I want you to know that this book is worth way more than I paid for it. I could not put it down. I read the entire book in one sitting. I did'nt care for the" cutting parts". Oynx kicks butt. I love her character. I want to know where the stories are for Delano and Dalton. Love,Love those two. Your are fantastic writer. This book had my complete attention. Thanks for the good read.
LEAVE YOUR COMMENTS IN THE FEEDBACK FORM NOW
In response to the reader's inquiry as to Delano and Dalton, I will say once I have posted The Other Side of Love, they return in there and then of course Dalton will have his very own story as soon as I find the woman who wants to tolerate him.
That's like finding a needle in a haystack right.
As for Delano, that's a whole 'nother story which I can't reveal right now.
And yes, I love Onyx too.
I'm glad you enjoyed the book so much! And if other readers have, please leave a comment or go to the feedback form link above.
If you haven't downloaded your copy of Sin's Iniquity. Please do so now!
Available as a paperback & Kindle download


Available in multiple downloads

 Available for Nook Devices
Available Ebook reading formats:
You have purchased this book.