Charisse was really introduced to me in Diamond in the Rough.
During Rob's time in the psychiatric ward, he met Charisse and was accused of trying to kill her, but in actuality, he was trying to stop her.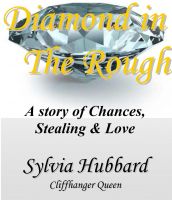 There's no doubt in the reader's mind of Charisse's intent on killing herself. Of course, the story His Substitute Wife… My Sister, goes in deeper as to why she wants to to kill herself.
People often asked me why did I create such a depressing woman?
My answer is simple: because there are people out there in the world like that.
I don't pretend to write just about someone who is depressed, but I write about the complicated person who became depressed over their situation or lot in life.
I'm not Disney. I don't write princess stories. I write about real life people who have gotten the worst of the worst and hoping for the best.
Although Charisse was an exception to the rule. She didn't want things to get better. She just wanted things to end.
From the first chapter, Charisse had intentions of ending her life, but after her third attempt, she found it more and more difficult trying due to the fact she was being watched more and more. Barely being put in the insane asylym under close survelliance, she knew she needed help in her journey to kill herself and her sister provided her with the perfect opportunity.
Have a baby for her sister and brother in law and she would be given the means to commit suicide. [read excerpt | click here]
Of course, the story isn't always as simple as it sounds.
When do I ever make anything simple?
To find out about Parker, the man all three sisters are involved with (one way or another), click here to read.
If you're read His Substitute Wife … My Sister and would like to leave a comment about the book, please