5.0 out of 5 stars Awesome! Worth MORE than $2!,April 30, 2011
This review is from: Sin's Iniquity (Kindle Edition)
First, there are so many elements to this book that it easily held my interest. I like mysteries, it had it. I LOVE a good interracial romance story, it was there big time! I love action…Check! Definitely lots of that. Most importantly, the book never got boring. Not even once. AND IT WAS A LONG BOOK THAT I DIDN'T WANT TO END! Now, that's something.
Next, this story was well thought out. Clearly, the author wanted the reader to think the story line through. Consider angles, and just when you think you have it all figured out, the author's talented writing of this book makes you second guess yourself.
The language is many times for the adult reader; however, not so harsh or crude that I would mark it down for that. In fact, it is probably necessary for the story.
Finally, the ending! No spoiler from me, but I applaud the writer for the last couple of chapters. Great read!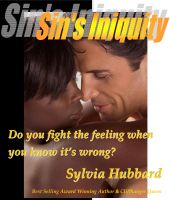 Sin's Iniquity
Ebook By Sylvia Hubbard
$1.99 Rating: Not yet rated.
Published: Apr. 26, 2011
Category: Fiction » Literature » Romance – Suspense
Category: Fiction » Literature » Romance – Contemporary
Words: 133022 (approximate)
Language: English
Ebook Short Description
Do you fight the feeling when you know it's wrong? Interracial romance/suspense by Queen of Cliffhanger, Michigan's Literary Diva and author of over 25 novels!
Extended Description
Sinclaire wants simplicity in her life. In order to prove her self worth to her ungrateful and evil mother, she is studying for the bar and in no way does she want anyone or anything to get in the way of her goal.
That is until Dwight Bowman steps into her life and wants to very much get to know the plain Sinclaire.
Despite what she wants to prove to her mother, Sinclaire can't help her attraction to the wealthy powerful gorgeous Dwight and gives in to her heart.
Yet, sins of the past are destined to tear them apart or kill them in the process of being revealed.
Available Ebook reading formats: