I love love love when fans take a moment to review – even the bad ones.
I'm honored by the fact they took time to really let me know how they feel – even the bad ones.
LOL
So today, to my surprise, I see new review posted on Emperor's Addiction at Smashwords! Wow! Wow!
Review by: Mercedes Williams :

If you are looking for a read that will keep you glued amongst the pages then you have come across the right book. I purchased EA and could not put it down as I was captivated by the main character and his co star.
Prior to reading the book in its entirety I had this assumption of who Emperor was but after reading book 1, I'd like to think that he is not the perv that I assumed him to be. What part one really illustrated to me is the power of love. He's found his own personal brand of kryptonite and it's suddenly about more than just his need for physical release.
(reviewed within a week of purchase)
Thank you ever so much! And thanks for all the other reviews on Amazon as well.
If you haven't gotten your copy yet, please take a moment and pick it up now by clicking the links below that coincide with your e-reading experience.
If you have read the book, but haven't done a review, pelase do so now. It helps with sales and encourages me to continue my quest to finish the second book… hint hint hint.
SMASHWORDS (ebook)
| AMAZON (Paperback & Kindle) 
| B&N/Nook
| Kobo Reader
| Sony Reader | Diesel eBooks | iTunes
And if you've bought it, read it AND reviewed it, now let others know to encourage them to do the same on all your socials with the buttons below.
Make sure you've collected all your Heart of Detroit Series and please question away in the comments below.
(For those awaiting Book2, we are crossing our fingers for mid-December)
Thanks in advance.
Emperor's Addiction: Heart of Detroit Series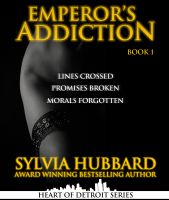 By Sylvia Hubbard
$1.99 Rating:

(4.00 based on 1 review)
Published: Oct. 02, 2013
Words: 45,900 (approximate)
Language: English
Short description
Promises broken, lines crossed, morals forgotten… Book One in the life of the notorious Emperor Heart.
SMASHWORDS (ebook)
| AMAZON (Paperback & Kindle) 
| B&N/Nook
| Kobo Reader
| Sony Reader | Diesel eBooks | iTunes
Related articles