Ain't much to say as I try to work around my Tuesday feeling like my Monday and hoping I can get more writing done in the day because I know I'll be too mentally tired tonight.
Wish me blessings on that endeavor. …More notes at the end of this post, so read on…
Hope is Love – Chapter 9.1 – Work in Progress – Live Story 
interracial – suspense – romance – sensual noir
To catch up, click here. To continue .. keep reading...
enjoy…
This part of the story is no longer available in this blog post.  THIS post was kept to keep the story's comment from the original live story. To purchase your copy in ebook or paperback, please go to:
https://www.smashwords.com/books/view/164821
Thank you for your support to my literary endeavors!
Yes, you're meeting the real Sheriff Heart and If you're an avid reader of my stories, you'll know about Tobias Avery as well.  Can you guess? Huh? Winner will receive a coupon to any free ebook on my Smashwords page they haven't read yet. http://www.smashwords.com/profile/view/hubbooks
Now of course if you've read the Heart of Detroit Series, you know Sheriff Heart.
Haven't met him? Check him out below. If you have met him and have purchased on Smashwords, please return to leave a review or favorite me as your author in your profile. I get really great kudos for that!
Check out: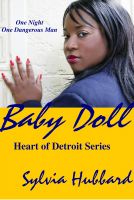 BabyDoll: Heart of Detroit Series
Ebook By Sylvia Hubbard
$2.00 Rating: Not yet rated.
Published: Nov. 23, 2010
Category: Fiction » Literature » Romance – Short Stories
Words: 12824 (approximate)
Language: English
Ebook Description
A stranger in a dark alley changes Pendulyn's life, when he has his way with her. She finds out there is much more to this dark, mysterious man than what she thought. In the end, she learns an unforgettable lesson in pleasure, but also deceit, lies and pain.
Tags
suspense, mystery, detroit, michigan, africanamerican, sylvia hubbard, heart of detroit
Available Ebook reading formats:
You have purchased this book.