Hope is Love – Live Story In Progress Chapter 1.2
As usual everyone had to be out of the shelter by ten, but Jona usually stayed over to help clean up. Two years ago when she had started coming, there had been some unwritten rule allowing her to stay after all the other homeless had left. She'd started putting up the cots and taking the blankets to the washroom.
Someone would then bring her a sandwich, cookie and then some juice.
The mother of the church brought her a tray this time. She even sat down in with Jona and immediately Jona knew it was gonna be one of those "talks."
"What will you be doing this holiday season J?" the woman asked in concern. The mother of the church had to be in her sixty. She sucked her teeth after every four words because she was getting used to dentures and her hair was cut boyishly, but she always wore the most unusual earrings.
The mother of the church was a short African-American woman – No taller than five feet, but everyone had such high regards for the woman she could be two feet and they'd carry her around so she could get places faster.
Jona shook her head stuffing half the sandwich down her throat and wondering how many quick bites she could take so she could finish up the food and get out of there.
"You thought about that program I told you about?" the older woman asked.
Jona only shrugged glad her mouth was full of food to answer.
"I know it's not here in Detroit, but it's somewhere you can start over. These people are friends of mine and they want to help you."
Jona tried to eat faster.
"Maybe even make some friends. You need those. I get so worried about you," the older woman said quietly. "Especially after last time."
Jona wasn't chewing anymore. Using the best of her swallowing techniques she'd learned as a child, she took down the food whole, so she could get out of there.
Getting up, Jona nodded her thanks and tightened up her coat.
"Just remember tomorrow will be our last time opened until after the New Year. Try to get here early because you know how we fill up fast and can't take anyone after we've filled up."
Jona nodded again and then made her way out with the Mother saying, "I'm gonna pray for you, J. I'm gonna pray the Lord finds you someone; anyone because you need someone to look after you and you need to look after someone."
Jona tried not to let those words affect her. Not until she was out in the cold where the wind could freeze the tears in her eyes.
Was there really A God that everyone talked about? She questioned.
If he loved her so much why'd he leave her like this and make it so difficult for her to live her life? She hadn't asked to be born and she had not asked to be used as she had been. Now she was stuck, broken and all alone.
To keep warm she found the longest bus line to ride until she was in Downtown Detroit. Remembering her father's patterns when she was just a little girl, she went over to the alley near the famous Coney Island. Not because there was food thrown out a lot, but because there were two large restaurants the vents shot warm air in the alley. There was an elderly man also huddled in the same place under the same vent. He looked at her for a moment, assessed her from head to foot and then turned away because she didn't look like a threat.
Wearing two long thick coats under triple layers of clothes and four pairs of socks in some almost worn down Timberlands she'd found in a dumpster a month ago, her clothes kept the moisture out and that was what was important for street survival.
She knew the street. She'd known it since she was four yrs old watching her father pick through other people's trash to find food, clothing and other necessities.
Jona had tried to stay in school, but without an address it wasn't long before the kids picked on her or she became the school's charity case. Soon the officials were called in and the threat to live in juvie hall was made. She'd run because she refused to grow up around murderers, thieves, prostitutes and drug dealers.
At 28, she had gotten her high school diploma and she tried to study community college, but with no address it was hard. Places she'd tried to stay ended up either being dangerous or uncomfortable for her. With her fear of closed in places, living with a lot of people didn't keep her in group homes for long.
As much as she tried to ignore the fact, the mother of the church was right. She needed someone in her life. The possibility of having a baby had been an excellent opportunity even if it had been conceived wrongly. The baby would have been something to live for.
Dusk came and with nothing to do or live for she stayed where she was. The church didn't take people until ten and she had just enough to get there, plus bus fair in the morning to get somewhere to make a little change. Pumping gas, help with bags, or washing cars always gave her a few Nickels to hold her until next week.
With the holiday being the following day, plus falling on a weekend, she knew everything would be real tight until Monday morning.
The old man had left the alley once it started to get dark, but Jona was reluctant to leave the cozy vent and venture back into the cold.
Just a few more minutes, she told herself.
A new model black Cadillac pulled into the alley. Jona was slightly behind the garbage dumpster ducked down so they couldn't see her. A well dressed black man and woman got out arguing. She couldn't see their faces, but from the sound of their voices, she determined they had to be Caucasian and well-educated.
"Why'd we have to meet them here?" The man insisted sounding very agitated.
"Listen James, my husband can never know about this and these people said they had pictures. Do you have the money?" she asked desperately.
"I said I would have it, Chelsea," he grumbled. "Damn!"
Jona determined he was more upset about the woman checking him than the money he had to come up with.
There seemed to be a great relief in the woman's voice as she said, "Then we'll wait for them. They said to meet them here."
Jona couldn't see their faces without revealing herself, but she could care less. This had nothing to do with her, yet since her own life was so boring and listless, listening to other people's complexities and problems was almost better than sneaking in an electronic store and watching the soaps.
"Well I'm waiting in the car. It's too damn cold and filthy out here," the guy grumbled.
Jona wondered how much money were they giving away to "these people?"
As if you could take it, she sneered.
Jona looked at her watch and knew the last bus would be leaving soon.
Hopefully "these people" would be too.
She heard another vehicle pull up behind the Cadillac. From the heavy engine, she could determine it had to be either a large older model SUV or van. Someone with a heavy footstep and a slight limp got out and walked up to the side of the Cadillac.
Jona used to play this game a lot – hearing, but not seeing. Her father used to always tell her to close her eyes. She would be obedient, but her imagination was good and most time what she heard, she was right about it.
From the proximity of the sounds, she knew the heavy footstep limp person was tapping on the driver side door, where the guy had gotten back in on.
He tapped again on the window and she heard the whir of the electronic window roll down.
"What the hell are you doing here?" the guy in the car said. "Did you-"
The sound of a gun going off made Jona cover her ears. She didn't need to hear anymore, but she couldn't help some of what leaked through.
The woman was screeching, "You killed him! Why'd you kill him? This was only to get the money. You weren't even supposed to come."
Jona didn't know what else was said as she pressed her hands tighter over her ears and she didn't want to. They bumped the dumpster several times until there was a large thud a few moments before the Cadillac and the car behind it pulled away.
She waited just a few more minutes before getting up from behind the dumpster.
Good thing she had on gloves and her hair was covered. There would be no trace of her there and she wouldn't have to answer to anyone.
Looking at the scene, she didn't see the body, but knew either they drove off with the body or…
Damn her curiosity.
Carefully, she opened up the dumpster and there he was.
He was a white guy. A big white guy and it looked like he was sleeping, except for the large clot of blood on the side of his head still fresh and oozing.
He didn't have his coat on anymore and they even took his shoes
A robbery gone bad? That's what they meant for it to look like? A car jacking!
Jona closed the dumpster and started to walk away until she heard a moan.
The rest of the for the story is no longer available on the site. the post were kept to keep the story's comment from the original live story. To purchase your copy in ebook or paperback, please go to:
https://www.smashwords.com/books/view/164821
Hope Is Love – Black Family Series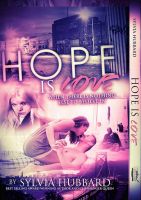 By Sylvia Hubbard
Rating: Not yet rated.
Published: May 22, 2012
Words: 96214 (approximate)
Language: English
ISBN: 9781452417370
Short description
When there is nothing else to hope for… HOPE IS LOVE. Book 2 of the Black Family Series
Extended description
Meet Hope, but most people call her Jona. She was a person living in the world, but not living on the inside.
Bad things happen to good people and Hope was the person we lose in the system and she grows up just going from day-to-day trying to make a dollar out of the pennies she find.
But she's smart on the street. She keeps to herself, but she's just there. A body without a soul and she's going nowhere.
Then meet James from LOVE LIKE THIS .
He's one of the bad characters that once the story is over you really don't give a fig about. Now he's lost again and you'll find him here in HOPE IS LOVE.
Can they find what they are looking for?
Available ebook reading formats
You have purchased this book. How to download ebooks to e-reading devices and apps.
| Format | Full Book |
| --- | --- |
| Online Reading (HTML, good for sampling in web browser) | View |
| Online Reading (JavaScript, experimental, buggy) | View |
| Kindle (.mobi for Kindle devices and Kindle apps) | Download |
| Epub (Apple iPad/iBooks, Nook, Sony Reader, Kobo, and most e-reading apps including Stanza, Aldiko, Adobe Digital Editions, others) | Download |
| PDF (good for reading on PC, or for home printing) | Download |
Thank you for your support to my literary endeavors!